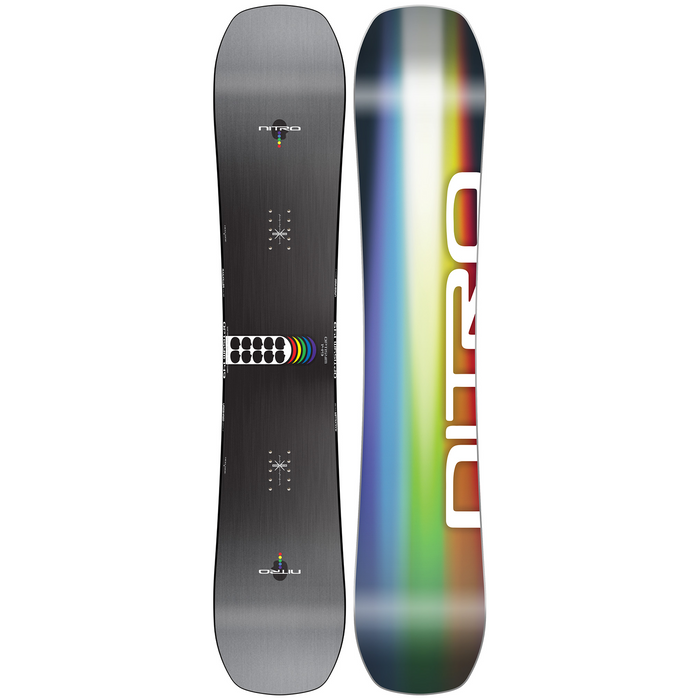 Nitro Optisym Snowboard 2023
The Optisym was inspired by all those snowboarders who enjoy turning everything, even a groomed run, into a playground, switching from airtime tricks to flat ground tricks within seconds. This snowboarding style is probably the most relatable and achievable freestyle snowboarding - which is why we decided to make a board for the flatlands - the dreamers - the Optisym.
Equipped with a brand new heelside core technology, called the Powerwall, which provides more durability and strength to the heel sidewall and more agility when on your heel edge, something unique to the asymmetrical snowboard shape philosophy. The Optisym´s mid-wide shape reduces toe and heel drag, which is essential for progressing your carves, butters, and flatland tricks. The overall asymmetrical twin shape and Dual Degressive sidecut allows for endless control when carving and navigating the entire mountain. The Cam-Out Camber and Whiplash Core Profile allow for quick and high ollie power while maintaining a flex pattern in the nose and tail that will enable you to hold butters like a pro. If you are looking for a mid-wide freestyle board for side hits, flatlanding, carving, and jibbing any mountain - then the Optisym is the board you need to make your future bright! Let the groomer season begin!