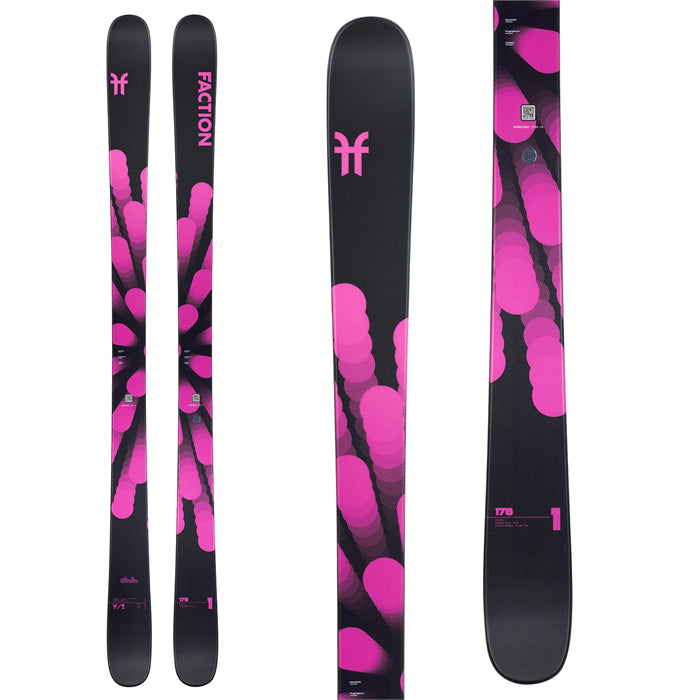 Faction Studio 1 (Ski Only) 2024
Flip, flop, and finesse your way through the park on the Faction Studio 1 Skis, a fully symmetrical twin tip setup that's light enough to throw around to your heart's content. A snappy poplar and ash core provides lightweight durability, a carbon weave adds stability, and carbon / rubber stomp pads under the binding mount plate ensure everything stays together on the landing. So what are you waiting for? Get out there and send it.ne.

Features


Sustainable Poplar-Ash Wood Core
 – 
Poplar is a light-colored, durable softwood that flexes and pops nicely as well as having great vibration absorption capabilities. Ash is a heavier hardwood, that complements Poplar by adding stiffness and durability. This duo provides excellent hold on hard snow, a solid base for stomping landings and enough pop and flex for creativity.
Full Carbon Weave – Between 8 and 12 strips of carbon, sandwiching either side of the ski's woodcore, are laid unidirectionally, providing extra stability to the ski, without adding weight to the build. Each carbon strip is woven into the fiberglass to provide strength and stiffness in the full length of the ski.
Carbon-Rubber Stomp Pad – A 600mm-long, 15mm-wide carbon/rubber reinforcement underfoot, above the edge, adds strength where it matters most to this playful all-mountain ski. In addition to protecting the wood core from heavy-duty impact on rails, the carbon and rubber inlay adds stability and vibration absorption under your boots, so that stomped landings feel better, both for you and your skis.
Sizes: 171, 178
Dimensions: 120-90-120